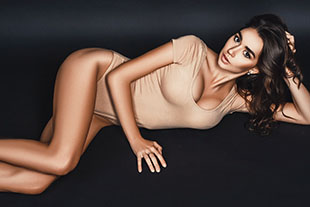 Breast Augmentation
Breast augmentation is one of the most frequently performed cosmetic surgery procedures in the U.S. Breast augmentation is meant to provide enhancement of the breasts and/or establish symmetry of the breasts with natural appearing results, feel an overall proportion of one's body, and enhance your self-image and self-confidence.
It is not uncommon to have asymmetry of the breasts, decreased breast mass or fullness after pregnancy or weight loss, or desire a fuller breast to improve the balance between the breast and hip contours.
INDIVIDUALIZED BREAST ENHANCEMENT

I address every woman as an individual. During the consultation, the relationship and communication I have with my patient will allow for specifically designed augmentation that is aligned with her goals and desires. With every patient's specific needs additional procedures may be recommended, such as a breast lift, to achieve your aesthetic desires. *

SALINE AND SILICONE GEL BREAST IMPLANTS 

The breast implant chosen will be chosen based on the desired outcome. The implants themselves have a silicone exterior and are filled with either saline (salt water) or silicone gel, both of which are very safe and FDA approved for breast augmentation.

BREAST AUGMENTATION SURGERY: INCISION AND PLACEMENT

The breast augmentation procedure takes approximately one to two hours and is usually performed under general anesthesia. Incisions are made in inconspicuous locations to minimize scar visibility, which include:

Inframammary; under the breast in the breast crease

Periareolar; following the natural line of the areola.

Axillary; within the natural crease of the armpit.

During surgery, Dr. Buono will create a pocket for the implant to rest and settle in, this is created either under the breast gland or under the pectoralis muscle (chest wall muscle).  Placement of the implant will be discussed during the consultation with Dr. Buono and determine which option is best for you.

Anatomy of the breast and implant placement.

The post-surgical dressings will remain in place for a couple days and then replaced with alternative dressings and/or a post-surgical bra.

RECOVERY

Most patients will experience soreness for a few days after breast augmentation surgery. Patients usually return to work within one week. Swelling and tightness may be experienced for the first few weeks following surgery. Lifting and running is limited for a few weeks after surgery. Scars vary form patient to patient but are usually minimal and may be treated with Dermatix® Ultra.

POSSIBLE COMPLICATIONS

Dr. Buono will discuss the risks and possible complications with you at the time of your consultation. These may include, but are not limited to, pain, scar or widening of scar, swelling, infection, temporary or permanent change in nipple sensation, fluid collection, infection, damage to or loss of breast tissue, bleeding, or need for surgical revision. Those who tend to develop thickened scars (hypertrophic scars or keloids) may or may not after a breast reduction, however, these scars may be treated with Dermatix® Ultra or medications if necessary. If a complication should occur, it will be addressed as indicated.

WHAT BREAST AUGMENTATION SURGERY WILL NOT DO

Breast Augmentation does not correct severely drooping breasts also known as breast ptosis. A breast lift may be required along with breast augmentation to address breast ptosis in order to achieve a lifted and fuller appearance; this can often be done at the same time as your augmentation or may require a separate operation.

*Results may vary from patient to patient. This website does not provide medical advice and the statements contained in this site may not have been evaluated by the Food and Drug Administration.

Questions?

Call (312) 772-1133 to schedule your consultation today. We look forward to meeting you.